Somalis urge government to ban khat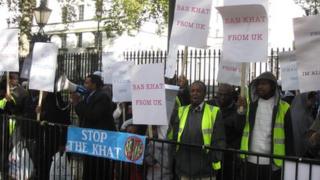 About 100 members of the Somali community have demonstrated outside Downing Street to call on the government to ban a herbal high.
Khat, which is illegal in the US and many countries in Europe, has been chewed for centuries in east Africa and the Middle East.
The campaigners said it caused medical problems and family breakdowns.
The Advisory Council for the Misuse of Drugs is currently reviewing the harms associated with khat.
Effects of chewing the leaves of the khat plant include euphoria and extreme talkativeness, but side effects can include dizziness, heart problems and anxiety.
'Mental health'
Fears have been raised that the stimulant is contributing to mental health problems within the communities that use it.
Richard Hamilton, Africa editor for the BBC World Service, attended the demonstration.
He said research suggested that more than a third of the over 100,000 Somalis in the UK have admitted to consuming khat on a regular basis.
The demonstrators said that the drug caused mental illness, depression, cancer and death from liver failure.
They added that the social impact of khat has kept men away from work and led to the disintegration of families and local communities.
Abukar Awale, who organised the demonstration, is himself a former khat addict.
"The number of families who are breaking down due to khat is beyond your imagination," he said.
"There is clear evidence of medical and social harm.
"I'd like to bring to your attention a report which came out in 2011, called 'khat related deaths' there are fourteen cases - all young men, all of them died of liver failure.
"They are not related. The one factor they all have in common is excessive khat use, which leads us to believe there is huge evidence of medical harm."
A Home Office spokesman said: "The Advisory Council for the Misuse of Drugs (ACMD) is currently reviewing the harms associated with khat.
"The government is required to consult the ACMD and will not prejudge this advice.
"The home secretary will consider the advice fully when it has been received, which is likely to be later this year."