Roberto Da Silva death: 'Car chase burglar killed pensioner'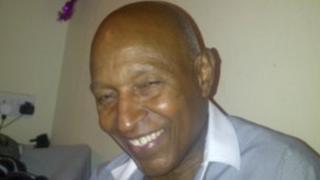 A burglar fleeing police in a stolen car knocked down and killed a man unloading shopping, a court has heard.
Roberto Da Silva, 70, died instantly when he became wedged between his vehicle and the VW Golf getaway car which had mounted the pavement.
Felix Fletcher was driving at speed at the time of the incident in Hayes, west London, in February, jurors heard.
Mr Fletcher, 39, of Hayes, denies causing death by dangerous driving, theft of a car and burglary.
The court heard he drove at 70mph (112km/h), ignored road signs and hit a car on a roundabout, which slammed into the pursuing police vehicle.
'Drove away at speed'
After the police car was forced to stop, Mr Fletcher sped away and struck Mr Da Silva, Deanna Heer, prosecuting, told the Old Bailey.
Miss Heer said that if jurors thought Mr Fletcher was the passenger in the car and not driving they could consider an alternative count of allowing himself to be carried.
Mr Da Silva, a retired mechanical engineer, died in Murray Avenue, Hayes, in February, 15 minutes after a homeowner saw his car being stolen following a burglary.
The homeowner dialled 999 and the car was immediately spotted by a passing police car which gave chase with its siren sounding and blue lights flashing.
"Instead of stopping, he [Mr Fletcher] accelerated and drove away at speed and dangerously before colliding with Mr De Silva," said Miss Heer.
After the crash, two men climbed out of the driver's side window of the Golf and ran away through rear gardens.
The trial continues.