Solicitor Mohammed Rahman guilty of beating wife to death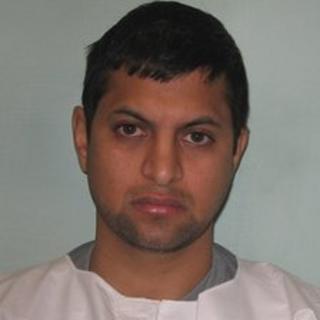 A solicitor who beat his wife to death after years of violence and his infidelity has been jailed for life.
Mohammed Rahman left Jasmin Chowdhury, 32, in a "half-dead state" after the attack at their home in the Isle of Dogs, south-east London, last December.
Rahman, who worked at the Tower Hamlet Law Centre, told her sister by text to remove her "dead body from my flat". Ms Chowdhury died three days later.
Rahman, 32, was convicted of murder and must serve at least 18 years in prison.
At the Old Bailey, Judge Timothy Pontius told Rahman: "I have no doubt that you treated Jasmin violently, both verbally and physically, on a regular basis.
"You are a man who habitually tends to lose his temper, particularly with women with whom you are involved."
Black eyes
The court heard Rahman, who was having an affair with another woman, attacked his wife the day after her birthday.
He then sent text messages to his wife's sister, one which said: "Get her out of my flat now before I kick the crap out of her".
Concerned relatives raised the alarm and Ms Chowdhury was found in bed and unconscious at the couple's flat in Cassilis Road.
Gareth Patterson, prosecuting, said: "Jasmin was indeed found inside, what can only be described as in a half-dead state. Although still breathing it was with difficulty."
She died three days later in hospital from a brain injury.
The couple met while working at a supermarket in 1999 and after the relationship turned abusive she confided in her unhappiness to a number of people.
Mr Patterson said: "She also disclosed the defendant had been violent towards her over a period of years."
Friends and family saw her finger had been broken, she was often left with black eyes and bruises to her back and shoulders, but she did not contact police, jurors heard.
When arrested Rahman denied causing the fatal injuries claiming his wife was emotionally unstable and would self-harm.
In a statement Mrs Chowdhury's family said they were devastated by the loss of Jasmin who was a "kind, caring, thoughtful, selfless and beautiful person".