London Underground workers strike over pensions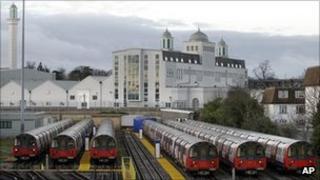 Maintenance workers on the Tube have begun a 24-strike in a row over pensions and benefits.
Staff who maintain and upgrade three Tube lines walked out from 06:00 GMT and have refused to work any overtime until Monday morning.
Transport for London (TfL) said weekend engineering work on the Northern Line had been postponed but denied union claims the impact would be widespread.
The union wants Tube Lines employees to be able to join TfL's pension scheme.
It also wants members to receive travel concessions, which the union said other people who worked for Transport for London received.
'Maintenance standards'
Rail Maritime and Transport general secretary Bob Crow said: "This dispute is about justice and ensuring that all groups of staff under the umbrella of London Underground receive the same rights and benefits and our members have no choice but to strike to secure those basic rights."
Jon Lamonte, chief executive of Tube Lines, said the industrial action was completely unnecessary.
He said: "Since becoming part of Transport for London, all Tube Lines' employees have kept their existing terms and conditions of employment.
"Should this action go ahead we have plans in place which will ensure that all London Underground maintenance standards are adhered to."
He said that previous action taken in April had no effect and they did not expect this strike to have any impact on passenger services.
"However, as a result of this action some planned upgrade works on the Northern line will need to be rescheduled and a service will now operate to all destinations this coming weekend," he added.