Central Line passengers stuck in Tube tunnel as train hits object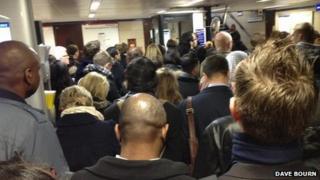 About 170 London Underground passengers were stuck in a tunnel for 45 minutes after a Central Line train hit an object on the track.
The hold-up, between Holland Park and Shepherd's Bush, led to delays for thousands of other Tube commuters.
A second train was called in to couple up with the stranded service, before leading it out of the tunnel.
Delays on the line, used by about 700,000 passengers a day, were worsened by continuing engineering work.
Damaged rail
Services are running on the Central Line but with severe delays.
A Transport for London (TfL) spokeswoman said: "The Central line [was] part suspended between Marble Arch and White City, due to a train hitting an obstruction on the track at Holland Park which has damaged the power rail.
"No customers or staff were injured. Our engineers are working flat out to restore a full service as quickly as possible but we expect delays to take a few hours.
"We apologise for the delays and we are doing all we can to get trains running as quickly as possible."
Scheduled closure of the Central Line between Grange Hill and Newbury Park for engineering work made the problems worse.
The Rail, Maritime and Transport union said it believed the damage to the tracks had been caused by a part - called a shoebeam - falling off the bottom of an engineering carriage.
Signal problem
The Bakerloo Line was also suspended between Piccadilly Circus and Elephant & Castle for close to two-and-a-half hours from 08:30 GMT after reports of a person being hit by a train at Waterloo.
There were also delays for some commuters on mainline rail services.
A broken-down service at Crofton Park in south-east London meant delays for passengers travelling into London with the First Capital Connect and Southeastern train companies.
A signal problem at Woldingham in south-east London also led to hold-ups for customers travelling between Oxted and East Croydon.
Passengers have taken to Twitter to vent their frustration at the delays.
Dave Bourn said: "The real horror - suspended central line! Happy #Halloween everyone!"
He told the BBC: "I stood in the ticket area of Leytonstone station for 30 minutes.
"Eventually it was so uncomfortable I just left and travelled by bus and two trains instead and got to work at University of West London an hour-and-a-half late."
Lucinda Hawksley, author and great-great-great-granddaughter of Charles Dickens, said: "Every tube line I could take is messed up in one way or another.
"Why did I bother getting up early only to be late anyway?"
Another passenger, Daisy Knight, said: "Don't go near the central line this morning. Unless you just want to stand on a platform and catch up on twitter."