Iain Duncan Smith challenges Boris Johnson about dog track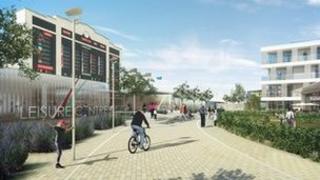 Work and Pensions Secretary Iain Duncan Smith says he is "absolutely furious" about London Mayor Boris Johnson's approval of a scheme for Walthamstow dog track in east London.
The Chingford MP said his constituents had been asking "What's the point of Boris?" and that he believed leaders had to take tough decisions.
On Tuesday the mayor allowed a plan for 294 homes and a leisure complex to be built at the Grade II listed stadium.
He said it would be a "major boost".
'Tough decisions'
But speaking on BBC London 94.9, Conservative cabinet member Mr Duncan Smith said he was "absolutely furious" at the decision made by his Tory "friend" - which will mean an end to dog racing at the site.
"This is a bad decision and I have constituents of mine saying 'What's the point of Boris?'."
He went on to question Mr Johnson's leadership.
He said: "I've been secretary of state for a while. You take tough decisions.
"Sometimes when your officials tell you that this might happen, you say 'Lots of things might happen but I tell you what will happen. I'm going to overrule this or make a decision here'.
"And that's what it takes to be in charge and to be leader. Sometimes you have to take a few risks."
He said his constituents were "deeply, deeply disappointed".
In 2010 Mr Johnson said he was dismayed there may not be any more dog racing in Walthamstow.
He said he hoped a development would come forward which would make it possible.
'Preserve heritage'
On Tuesday, he said he "shared the sadness of many about the demise of dog racing from this historic corner of London".
Mr Duncan Smith said: "I don't doubt that's what he wants but the thing about being in charge is when you want something you have to stand by it.
"As a friend of his I say I am really deeply deeply disappointed."
Mr Johnson said: "A huge £2m contribution to the surrounding community has been secured from the developer which will deliver vastly improved local sports and leisure facilities for generations of east Londoners to enjoy."
Andy Rowland, a director at London & Quadrant Housing Trust, said: "We look forward to beginning work as soon as we can, subject to meeting the remaining conditions in the planning process.
"Our scheme will bring £50m worth of investment into the borough, including £3.8m to improve local leisure, education, health and transport facilities.
"This will preserve the architectural heritage of this iconic and historic site for the whole community."