Brian Coleman suspended by Conservatives over assault charge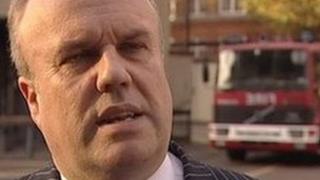 Former London Assembly Member and the ex-mayor of the London Borough of Barnet has been suspended from the Conservative Party.
Brian Coleman, 51, was charged with assault after an incident in Finchley High Road in north London on 20 September.
He is also charged with careless driving and will appear at Hendon Magistrates' Court on 5 November.
He lost his seat in May's London Assembly elections.
A Conservative Party spokesman said the decision had been taken to suspend him pending the outcome of his court case.
Barnet Council confirmed that he remained a councillor.
A spokeswoman said there would be a vote on Tuesday to decide whether he can retain his chairmanship of three committees.