Blackwall Tunnel toll proposed to finance new crossing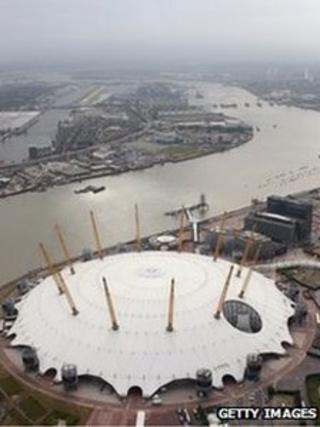 Drivers could be asked to pay a toll charge of £2 to use the Blackwall Tunnel in south-east London to fund a new crossing under The River Thames.
Transport for London (TfL) has proposed a new road tunnel at Silvertown costing £600m and a £150m vehicle ferry at Gallions Reach.
But there is no funding available in TfL's business plan. A toll would raise revenue and discourage congestion, the government body said.
The AA said it would be controversial.
'More attractive'
The proposed tunnel would connect the Greenwich Peninsula and Silvertown in the Royal Docks.
TfL said this and the ferry crossing would make the area more attractive for people living there, visiting and doing business by reducing delays.
It said it would also help realise the potential of the Royal Docks and the Greenwich Peninsula.
The Silvertown Tunnel and Blackwall Tunnel are located close to each other and share approach roads.
As such, TfL argued one could not be tolled without the other, as drivers would head for the free route in large numbers causing serious delays.
The suggested charge is £2 for cars, £2.50 for two-axle goods vehicles and £5 for Heavy Goods Vehicles.
The toll could vary depending on the direction of travel, the time of day, and the day of the week and would not come in until 2021, a spokesman said.
It is subject to a consultation which will end on 1 February.
'Always controversial'
But Paul Watters, from driving organisation the AA, said drivers would feel like "pound fodder".
He said: "Charging existing infrastructure is always controversial especially as since the '60s it's been a free crossing.
"Drivers who use the Blackwall Tunnel and not the Silvertown will feel like the pound fodder for the new crossing even though they have no reason to use it.
"Traffic doesn't have much choice and drivers may feel they are being corralled into something."
He said the journey cost could be £80 a month "on top of a £120 fuel bill".
Watchdog London TravelWatch, has told TfL it supports tolling the crossing.
Policy officer Vincent Stops said the organisation supported a plan to counter congestion in outer and east London, which is predicted to worsen as the population grows.