Meredith Kercher's sister Stephanie honoured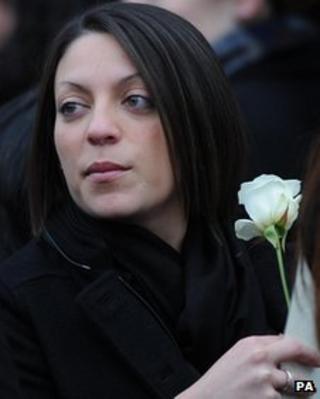 The sister of murdered Meredith Kercher has been honoured at a women of the year event.
Exchange student Meredith, 21, from Coulsdon in south London, was killed in Perugia in Italy in 2007.
Stephanie Kercher, 29, represented her parents in Italy, changed her job and set up a fund to help them financially.
She was given the editor's choice prize at the Cosmopolitan Ultimate Women of the Year Awards on Tuesday evening.
Cosmopolitan editor Louise Court said: "Since the death of her sister Meredith five years ago, Stephanie remains an inspiring figure of strength and support.
"Most impressive of all is her single-minded desire to ensure her sister isn't forgotten and to make sure her personality shines through any projects she undertakes."
The body of Miss Kercher was found in her bedroom at the house she shared with the American student Amanda Knox and others. Her throat had been slit.
Miss Knox and her boyfriend Raffaele Sollecito were jailed for the killing but their convictions were overturned last year.
Rudy Guede was jailed for 16 years for sexually assaulting and killing the Leeds University student.
The Cosmopolitan Ultimate Women of the Year Awards 2012 was hosted by BBC Radio 1 presenter Fearne Cotton at the Victoria & Albert Museum in London.