Squatters take over one of London's oldest pubs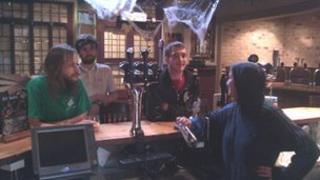 One of the oldest pubs in London said to have been visited over the last 300 years by everyone from Sir Christopher Wren to Dylan Thomas, Bob Marley and Catherine Middleton, has been taken over by a group of 17 squatters.
The Cross Keys in Lawrence Street, Chelsea, west London, was until a few months ago a popular pub with a roaring trade in Sunday lunches.
Now a bag of dog food and loo rolls sit incongruously on the counter where the restaurant crockery still rests.
'Hobo Hilton'
The Chesterfield sofas next to open fires in the bar, once coveted by eager groups of paying punters, form part of the squatters' personal club room.
The mezzanine gallery area which was once hired out for private parties is their dormitory, sheets hanging down from the ceiling suggest a flimsy sense of privacy.
"Do you mind? This is our bedroom," says a tall lanky young man.
But that is a point of contention. One man's bedroom is another man's valuable real estate.
Andrew Bourne, the owner, has launched legal proceedings to evict the squatters who moved in on 12 October.
The pub was left unoccupied after Mr Bourne lost a bid to change it to a residential building.
Neighbouring residents had run a campaign to maintain the building's use. "Save Cross Keys" posters can still be seen in people's windows.
Fresh from the "Hobo Hilton", their former squat in High Holborn owned by BT, the squatters made up of people aged between 17 and 36 and eight different nationalities, wrote to Mr Bourne once they moved in.
Mariana Costa, 21, a Portuguese theatre student, said: "We offered to look after the property while prospective buyers looked around.
"We hoped to stay here until the place was sold and protect it from theft and becoming damp."
He declined their offer.
'Very hospitable'
He has been reported as describing as "outrageous" the fact the squatters moved in.
He will go before West London County Court on 5 November to seek their eviction.
Peter Ling, of Howard Kennedy solicitors, said his client had no comment to make.
Ms Costa said the group has fixed the toilets, unblocked drains and got rid of mice.
Rosa, 28, said they planned to make the most of the building while they can, including using the space to exhibit artwork.
When the squatters sit around chatting, talk is of "debt bondage" and "popular sovereignty", a profound disillusionment with the trappings of modern life and the established order.
Two members of the group camped outside St Paul's Cathedral as part of the Occupy movement.
One of them, Mr X, 28, formerly earning £22,000 running poultry farms in Norfolk, said: "We are dropping out of the system. I'd rather live in a tent than be a slave being paid an average wage and being ripped off by electricity companies, utility companies and the BBC [for a TV licence].
"There are enough buildings like this sitting in limbo to house the 17,000 people on the homeless register."
A chalk board bar menu offers a burger and fries for £11. But the new inhabitants eat "skipped", leftover food from supermarkets and restaurants.
Rosa added: "We've had a few neighbours pop round and they've all been very friendly."
Gordon Taylor, of West London Residents' Association, said: "I don't really agree with any occupation of even commercial premises by squatters even though the group in there are very hospitable in fact.
"We want the developer to sell it on to someone else and for it to be reinstated as a hostelry."
Burden on landlords
Since September, the offence of squatting in a residential building carries a maximum penalty of six months' imprisonment, a fine of up to £5,000 or both.
But it is a civil, not criminal, offence to squat in commercial properties.
Charlotte Bijlani, partner at law firm Norton Rose and head of real estate litigation, said: "Because the criminal sanction doesn't apply to commercial properties, squatters may well start going for those much more and of course in a recession there are many more empty commercial sites.
"If they are going in and trashing the place it is a huge problem for the landlord.
"They [landlords] already have the empty rates bill to pay if the building is empty after three months."
She said that from the county court appearance it can take two to four weeks for bailiffs to serve an eviction notice.
"Landlords rarely recover the court costs of proceedings against squatters," Ms Bijlani explained.