Scotland Yard could be sold as part of £500m savings plan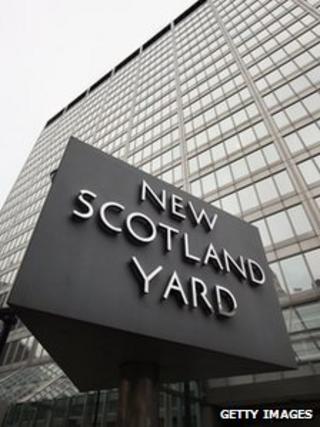 The Metropolitan Police is planning to sell off its headquarters to help save £500m over the next two and half years.
New Scotland Yard in Victoria, central London, would be put up for sale under proposals designed to deliver savings and boost front-line policing.
Police stations across London would also be under threat, with five already approved for sale, as the force seeks to dispose of a third of its estate.
The plans were revealed to the deputy mayor for police and crime on Tuesday.
John Tully, chairman of the Metropolitan Police Federation, said plans to sell the HQ was like losing the "Crown Jewels".
The Met has been tasked by the mayor's office with making savings of half-a-billion pounds by 2015.
Deputy Commissioner Craig Mackey told the deputy mayor for policing and crime, Stephen Greenhalgh, that if significant savings were to be made then a third of the Met's property estate needed to be disposed of.
'Expensive luxury'
Currently, it has about 700 buildings including police stations, patrol bases and traffic garages.
New Scotland Yard became the force's HQ in 1967 and the Met paid £124.5m for the building in 2008. It costs the force £11m per year to run.
"We need buildings that are fit for a modern police service," said Mr Mackey.
"New Scotland Yard costs £11m a year to run and we now need to invest over £50m into it."
He said: "It is a 60s building, so the infrastructure and support services that are in the building, I think, from the heating and ventilation through to the IT provision, is from the 60s.
"Despite the money we've spent on it over the years, it is an asset that we could use differently and better invest the money in policing."
He added: "... As we go through this change programme it's going to have space in it that we don't need. In central London that's an expensive luxury."
Under the plans the force HQ would move to a nearby, smaller building in Whitehall.
But a final decision would not be made until November when the proposals would be submitted to the Mayor's Office for Police and Crime (MOPAC) as part of budget savings.
Mr Tully said: "Clearly it's a building of age and it's got upkeep costs, but the old police authority and now Mopac have had a consistent policy of selling off property and they've now reached the Crown Jewels.
"An iconic building like New Scotland Yard is going to bite the dust.
"Thousands of people work at New Scotland Yard and it seems to me that there will be a lot of incremental costs to relocate people."
Sharing services
As part of the savings plan, police stations in Richmond, Willesden Green, Highbury Vale, Walthamstow and south Norwood have been approved for sale.
Previously Mr Mackey had said: "We will have at least one station in each borough providing access to the public 24/7."
The deputy commissioner said 65 out of 136 front counters across London have one visitor an hour and on average there were 48 crimes reported at front counters across the whole of London between 11pm and 7am.
In their place, the deputy commissioner said he aimed to establish more opportunities for safer neighbourhood teams to be in "public access points" and locations such as shopping centres and supermarkets.
Joanne McCartney, Labour's police and crime spokesperson at City Hall, criticised plans for "contact points", saying: "It is unclear whether these will be stations, front counters or a stall in a supermarket for a couple of hours a week.
"This is not adequate and Londoners deserve a better level of service."
The Met is also looking at saving money by cutting the number of borough commanders - currently there is one for each of the 32 council areas.
One idea is to share services and senior managers across some boroughs, with perhaps a superintendent instead being the officer responsible for leading policing.
London's mayor Boris Johnson made an election promise earlier this year to keep police officer numbers at about 32,000.
Mr Mackey proposed that reducing the number of supervisors and senior ranking officers would allow the Met to invest in more police constables on the beat.
"Core policing will still be delivered locally with more officers in neighbourhood policing," said Mr Mackey. "But no decisions have been made on any of these proposals."
But Mr Tully said that officers could be left "severely challenged" by the cuts.
He added: "We have grave concerns around the supervisory ranks that we represent - sergeant, inspector and chief inspector."