London offenders threatened with eviction if Halloween disrupted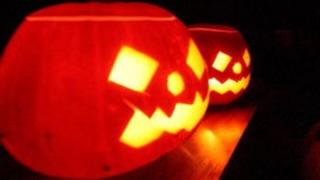 People convicted of anti-social behaviour offences have been warned they face eviction if they disrupt Halloween and Guy Fawkes Night.
As well as warning tenants they risk losing their homes, police are stepping up after-school patrols across London.
Safer neighbourhood teams are also encouraging "hot spot" shops not to sell flour and eggs to children.
The police stressed the majority of young people would behave responsibly, and did not want to "demonise them".
As part of the seasonal operation, the police will be using screening arches to deter the carrying of weapons and will take part in test purchases of fireworks and petrol.
Guy Fawkes Night fires have dropped by two thirds over the last five years, according to new figures from London Fire Brigade.
Last year's 5 November was the quietest on record for the capital's firefighters, with 154 fires attended - one fire every 10 minutes.
On the same night in 2006, fire crews attended about one fire every three minutes.