Frank Edwards in The Rifleman pub sign honour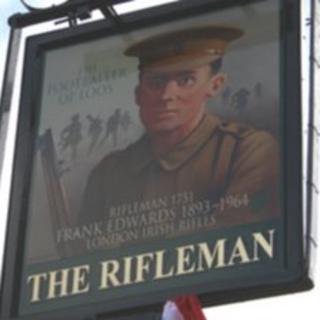 A pub in south-west London has been dedicated to a local soldier who became known as the Footballer of Loos.
The Rifleman in Twickenham unveiled its sign honouring Rifleman Frank Edwards, who fought in the Battle of Loos in France during World War I.
Historians said at the start of the 1915 battle, the London Irish Rifles planned to kick footballs into the German trenches as they advanced.
But officers disapproved of the plan and deflated all but one of the balls.
The London Irish Rifles Association said on 25 September 1915, Pte Edwards led his comrades in dribbling the football across no-man's-land "before kicking it into the Germans' trench with a joyous shout of 'goal'".
The battalion overcame two lines of German trenches and withheld a "massive enemy counterattack", the association said.
Saturday's dedication was attended by Pte Edwards's granddaughter Sue Harris and her husband Ed, who chronicled the story in his book The Footballer of Loos.
Rita Palmer, the mayor of Richmond-upon-Thames, unveiled the sign and the London Irish Rifles Pipers brought the football with them.
'Audacious act'
Richard Walters, who volunteered at the dedication, said the pub had previously had a generic Rifleman sign.
"We found out about this local hero who was involved in quite an audacious event during World War I," he said.
"The London Irish Rifles Museum still has the football. They believe it's the best trophy they've got because it represents so much.
"He was an ordinary fellow who did a very audacious act of bravery."
More than 60,000 British soldiers were killed, wounded or captured during the battle, which lasted from 25 September until 8 October 1915.
Pte Edwards, who was born in 1893, was shot and injured and failed to reach the enemy lines.
He recovered, but was affected by gas poisoning for the rest of his life. He died in 1964.