Chris Isted killer jailed after Croydon stabbing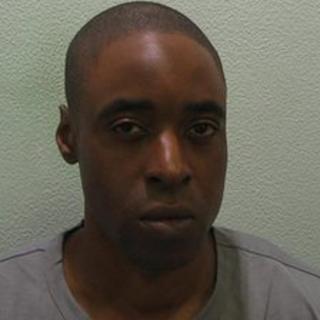 A man who stabbed a father-to-be 14 times outside a south London pub has been jailed for a minimum of 27 years.
Delivery driver Chris Isted, 25, had been celebrating his partner's pregnancy with twins when he was killed at The Ship in Croydon High Street.
Carlton McKay, 27, of Thornton Heath, south London, pleaded guilty to murder and to wounding Mr Isted's firefighter friend Kevin Millward, 25.
Mr Isted's mother Jane said in a statement her son was a "gentle giant".
His partner Teri lost one of the twins in pregnancy due to stress.
Mr Millward told the Old Bailey jury he was stabbed seven times when he tried to help Mr Isted on 31 March and had been unable to work for four months.
The killing was the culmination of a dispute about noise which involved Mr Isted's mother and McKay's brother Clancy, who were both disabled, the court heard.
Simon Denison, prosecuting, said that on the night of the killing Mr Isted and Clancy McKay were in The Ship before it closed at 02:00 GMT.
'Frenzied attack'
Mr Isted became agitated at Clancy McKay's presence and as they left, punched him in the face, sending him to the ground.
Mr Isted was about to land another punch on Clancy McKay, who had alerted his family before leaving, the court heard.
"At that very moment, the defendant arrived," Mr Denison said.
"He had taken a knife with him, ready to use as a weapon.
"It was a frenzied, merciless attack.
"He was not defending his brother but attacking Mr Isted."
James Scobie, defending, said McKay, a plumber, had been protective of his brother who had Asperger syndrome.
The "festering sore" of a dispute should have been resolved before it escalated, the barrister said.
"This tragic act could and should have been avoided," he said.
"Clearly he lost it. There is genuine remorse for what he has done."
Judge Brian Barker, the Common Serjeant of London, said: "This is a tragic case for all concerned.
"It has been devastating for both families. This has been a terrible waste of life."