Man arrested over stolen Olympic medals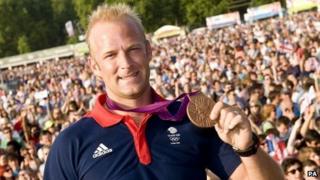 A 31-year-old man has been arrested by police investigating the theft of two Olympic bronze medals.
They were stolen from rower Alex Partridge and hockey player Hannah Macleod in the early hours of Wednesday in London.
Police said their jackets, containing the medals, were unattended at the Mahiki nightclub in Mayfair.
The thefts happened after the Queen hosted an event at Buckingham Palace to celebrate London 2012 athletes.
On Thursday night a Scotland Yard spokesman said the arrested man had been released on bail while inquiries continue.
'Understandably desperate'
Macleod, who plays for Leicester Ladies, said in a message on Twitter she was "totally devastated".
She added: "I'm not after punishment. If you picked up a Bronze Olympic medal that isn't yours please just send anonymously back to GB hockey-Bisham Abbey."
Partridge wrote: "The London Met are doing a great job and following up on all our leads, but massive thank you to everyone else for spreading the word."
The Metropolitan Police spokesman said that during the course of the night, the Olympians realised their jackets and the medals were gone.
The jacket belonging to Mr Partridge was handed in at a north-west London police station on Thursday morning, but not the medal, the force spokesman said.
Det Ch Insp James Harman appealed for anyone who was in the nightclub at the time and saw anything suspicious to contact the force.
He said: "My team have spoken to both Olympians who are understandably desperate to be reunited with the medals they have dedicated their careers to win.
"If you know who is responsible or where the medals are, please call us."
A Mahiki spokesperson said: "Incidents like this rarely ever happen at the club, and we pride ourselves on our safe, welcoming and fun environment; our calibre of clientele and our excellent security."
The club added it was working with Mr Partridge and the police to track down the medals.