Heathrow Terminal 5 creates indoor garden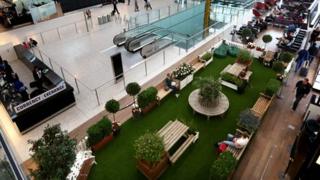 A pop-up garden, complete with grass, plants, rosemary bushes and jasmine, has opened in Heathrow Terminal 5.
The west London airport has created an area to give passengers "a relaxing space" as it expected more than 1.5 million passengers to pass through Heathrow half term next week.
It follows research that shows Britons take an average of eight days to relax while on holiday.
It also found about half of tourists check emails and voicemails on leave.
Ben Crowley, from Heathrow, said: "We want to help our passengers start their holiday the moment they arrive at the airport, and make sure their time away is as relaxing and enjoyable as possible."