London's Admiralty Arch to be luxury hotel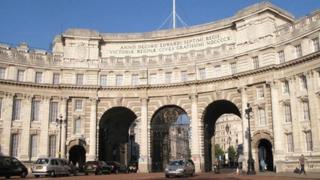 Historic central London landmark Admiralty Arch is to become a luxury hotel after the government agreed to lease it out for £60m.
The ceremonial gateway, between Trafalgar Square and The Mall, has been leased for 99 years to development company Prime Investors Capital (PIC).
It wants to transform it into a five star 100-bedroom hotel with ballroom, spa and fine dining restaurant.
Building of the arch, a memorial to Queen Victoria, was completed in 1912.
Redevelopment proposals include plans to build royal and presidential suites as well as residential apartments.
The developer said it did not have a "concrete time" for when it hoped to open the doors to the public.
The transformation is dependent on Westminster City Council granting planning permission for the multi-million pound conversion of the Grade I listed building.