Neasden family fire deaths: 'Freezer failure' to blame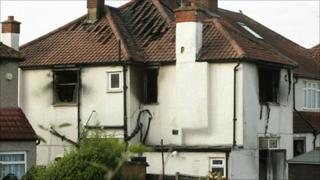 A north London house fire that killed a woman and five children started when a freezer failed, a coroner has found.
Muna Elmufatish, 41, her daughters Hanin Kua, 14, Basma, 13, Amal, nine, and sons Mustafa, five, and Yehya, two, died in the fire in Neasden last year.
Coroner Andrew Walker found they died due to the "inhalation of fire fumes".
Issuing a narrative verdict he said: "The fire started when a capacitor... in a compartment in a freezer failed and caught fire."
North London Coroner's Court heard the family were all asleep when the blaze engulfed their home in Sonia Gardens in the early hours of 24 September 2011.
Industry alert
The fire started behind a chest freezer in the hallway of the four-bedroom semi-detached house.
Bassam Kua, 52, described being in a "blind panic" as he tried to save his wife and children but only he and his daughter Nur, 17, survived.
Mr Walker said the loss to the remaining family members must be "unbearable".
In recording a narrative verdict he said: "The freezer was manufactured at a time when the housing to the compressor and capacitor had been changed from a pressed steel to a plastic housing.
"Had the compressor been housed in a pressed steel compartment it is likely the fire would not have reached the insulation.
"The fire did reach the insulation and was fuelled by it - it spread upstairs where the family were."
London Fire Brigade launched a fire safety campaign soon after the fatal fire which it said was "the worst house fire in the capital in over a decade".
The coroner said he would be issuing a report to various industry bodies regarding the materials used to house these types of capacitors to alert the industry to the risk.