Iain Duncan Smith attacks Walthamstow dog track plan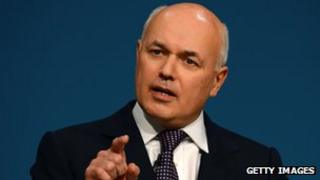 Chingford MP and cabinet member Iain Duncan Smith says he will call on the Mayor of London to reject plans for Walthamstow's dog track in east London.
It follows the release of information showing the developer is expected to make a £14.5m loss and will have to renege on community funding obligations.
He called the conduct of London & Quadrant Housing Trust "outrageous".
The developer said it was confident of meeting funding commitments.
It also said it anticipated making a profit in the long term.
Waltham Forest Council approved a plan in May to build 294 homes and a leisure complex at the grade II listed stadium site.
'Less than open'
Boris Johnson is expected to decide on 30 October if the plan can go ahead.
A Freedom of Information request from campaigners Save Our Stow was denied by the council but upheld by the Information Commissioner's Office.
It publicly reveals the project's viability assessment for the first time.
It shows that the development is set to make a £14.5m loss and states "scheme viability is not able to generate a project surplus to create a Section 106 contribution based on the current estimated project values".
Under the Section 106 agreement, London & Quadrant Housing Trust (L&Q) was obliged to pay £3.8m including contributions to local education, leisure, healthcare and environment services.
A sum of £1.75m was to be paid towards the Walthamstow Forest Pool and Track facilities.
Speaking on BBC London 94.9, Mr Duncan Smith said: "It's outrageous what's going on."
He criticised the developer for being "less than open".
He said: "There's no social housing so it [the plan] doesn't even perform in terms of the council's requirements."
As a registered social landlord, L&Q receives public funding.
Mr Duncan Smith added: "This is meant to be a social housing provider and it seems to me they've turned into some kind of property speculator using some proportion of taxpayers' money.
"The mayor knows my point of view. I'm going to call on him to reject it."
Affordable homes
Rick Holloway, of Save Our Stow, said: "This isn't about a dog track any more. It's about the public being ripped off."
An L&Q spokesman said: "This report has been with the local council and the London Mayor all along, and as a long-term investor we anticipate making a profit rather than a loss.
"As a housing association, every penny we make goes back into more new homes and services for our residents.
"We are confident of meeting our Section 106 community funding commitments in full."
He said the scheme would bring the site's heritage buildings back into long-term use, restore the stadium facade, create a community sports centre, a children's nursery, allotments and up to 250 jobs.
The spokesman added: "Twenty per cent of the 294 much-needed, high quality homes would be affordable for local people."
Boris Johnson has told residents that "viability will be a major issue" in his determination of the matter.
A council spokesman said: "The Section 106 is now in its final draft form and the planning application has been referred to the GLA (Greater London Authority)."