Neasden fire death inquest: Father describes search for family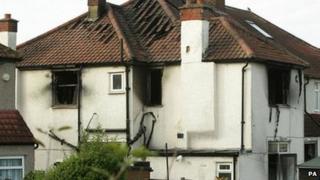 A father who lost his wife and five of his children in a house fire has described searching the burning north London home for his family.
Bassam Kua, 52, tried to save his family when the blaze ripped through their Neasden home in September 2011.
But Muna Elmufatish, 41, her daughters Hanin Kua, 14, Basma, 13, Amal, nine, and two sons Mustafa, five, and Yehya, two, died in the fire.
The inquest into their deaths is being held at North London Coroner's Court.
The family were all asleep when the blaze engulfed their home in the early hours of 24 September 2011.
'Loud bang'
Only Mr Kua and his daughter Nur, 17, escaped from the property in Sonia Gardens and were treated in hospital.
Coroner Andrew Walker read out the statement written by Mr Kua in the days after the fire, which started behind a chest freezer in the four-bedroom semi-detached house's hallway.
He said he remembered "Muna waking me up and the smoke alarm sounding".
The pair got up and ran downstairs to investigate, he said.
"She shouted that the fire was at the back of the freezer," he added.
Mr Kua said he had shouted at Muna to get the children while he planned to douse the flames with water.
"The flames were higher than my head. I then thought it was better to use the garden hose," he said.
But he said the garden hose had been "useless", and he had decided to try to go back upstairs to rescue his family.
'Blind panic'
He said he had had to feel around with his hands because he could no longer see.
"I remember hearing an explosion or a loud bang," he said.
"I was in a blind panic. I went upstairs to try to find my family but I couldn't.
"I think I repeated the process of running up and down and out of the house about four or five times."
Mr Kua said when emergency services arrived he had been in such a panic that he had refused medical treatment.
"I saw the fire brigade bringing out my son Mustafa, who was five years old," he said.
"I saw them pushing down on his chest trying to save him.
"I kept asking about Mustafa, and after about 10 minutes or so they said Mustafa was dead."
London Fire Brigade fire scene investigator Andrew Vaughan-Davies told the inquest an investigation found the chest freezer was a Whirlpool model.
The expert said a degraded capacitor, a circuitry component used in various electrical appliances, was the likely cause of the fire.
He said London Fire Brigade had found defective fridges, freezers and fridge-freezers had caused 191 fires in the past two years, and that defective Whirlpool appliances in particular were found to have caused about 22 fires in the last 12 years.
The hearing continues.