'Appalling' delay in £11m Greenwich foot tunnels work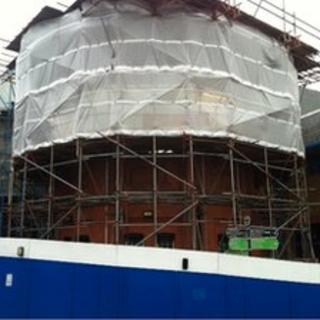 Commuters say they are frustrated by the delay in the £11m refurbishment of two foot tunnels under the Thames.
Work on the foot tunnels in Greenwich and Woolwich was commissioned in March 2010 and was due to finish in a year. They are open but the work is unfinished.
Greenwich Council has apologised for the delay and said there will be an independent inquiry.
Tory councillor Spencer Drury said the council's management was "appalling".
The Greenwich foot tunnel links Cutty Sark to the Isle of Dogs while the tunnel in Woolwich connects to North Woolwich across the river. Both buildings date back to early 20th Century.
The revamp involved replacing lifts, structural and repair work on the shafts, roof and improve lighting and security in the tunnels.
But work on both tunnels "ceased" since the original contract was terminated in December 2011 after the deadline was not met.
'Filthy and dingy'
The local authority took over the management of the project after September 2011 after the work "did not run to schedule and various costs exceeded estimates", council documents reveal.
Both tunnels reopened in March, the Greenwich tunnel with working lifts and a refurbished roof but the Woolwich tunnel opened without working elevators.
The "incomplete" work has led to an "unacceptable and deteriorating environment for tunnel users", council's documents said.
Darryl Chamberlain, a local blogger following the progress of the project, said: "It is filthy. It's dingy, it's really badly lit, (and) all of the cabling is exposed".
Mr Drury said: "I think clearly the council's handling has been inadequate, appalling some would say, and there needs to be serious changes in the way in which it handles these big projects to stop taxpayers' money being wasted."
A statement from the council said it "shares the frustration of pedestrians and cyclists".
It added: "We are currently taking legal advice from a firm of specialist construction lawyers on the best route to recover the additional costs from the contractors.
"The council is also in the process of procuring a new contractor to complete the project and we have publicly stated that we will disclose the full extent of the costs once we have received bids from all interested parties."