Thames cable car a 'tourist attraction', says Labour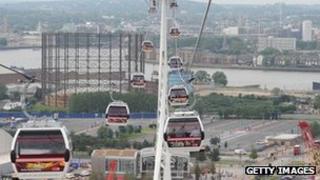 A cable car across the River Thames is a "tourist attraction", a Labour London Assembly Member said citing a fall in passenger numbers since the Olympics.
John Biggs said the Emirates Air Line was "not a serious transport solution" as in September it carried 229 people an hour, less than its 2,500 capacity.
Transport for London said the service had exceeded its target of carrying 1.3 million people in the first year.
Regular users will increase as the service becomes "familiar", it added.
The £60m cable car service opened to the public on 28 June and links the O2 Arena in Greenwich and the ExCel exhibition centre.
Figures released by TfL showed that in August 551,039 people had been on the Air Line and another 210,077 people used the service between 1 and 16 September.
Passenger targets 'exceeded'
Mr Biggs, who represents the City of London and east London, said: "It is a useful and welcome tourist attraction and will provide a useful alternative to the tube and DLR [Docklands Light Railway] when these are busy or closed but it's not a serious transport solution for us".
A round trip on the cable car costs £6.40 while an adult single fare on a pay-as-you-go Oyster card costs £3.20.
Mr Biggs called for the costs to be included in the travelcard to attract more regular users.
"The mayor should incorporate the cost of the river crossing into a Zone 1-4 travelcard then it would be better used by local people, and not just visitors to London looking for a nice day out," he added.
TfL's head of the Emirates Air Line, Danny Price, said: "Since opening the Emirates Air Line has already exceeded the estimated target of carrying 1.3 million passengers for the first financial year (March 2013).
"It played a key role in transporting passengers between two London 2012 Olympic and Paralympic venues during the summer with opening hours extended to 23:30 BST.
"As with all new transport links, the number of regular users builds over a period of time as people become familiar with new journey possibilities for both work and pleasure."