British Museum cleaners vote for strike action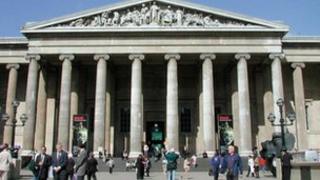 Cleaners and maintenance workers at the British Museum have voted to go on strike over fears about pay and conditions.
Union members at the central London museum said they were worried that their work would be out-sourced.
The Public and Commercial Services Union (PCS) said the last thing workers needed was "the threat of privatisation hanging over their heads".
The museum said it was consulting with staff.
Cleaning services could be provided more simply and efficiently by the appointment of one contractor, a museum spokesman added.
PCS regional secretary Keith Johnston said: "These staff work hard to keep this prestigious cultural attraction clean, tidy and safe for millions of visitors to enjoy, yet they receive little reward or recognition.
"We are determined to oppose these plans that would mean shareholders profiting from cutting both the conditions of already poorly-paid cleaners and the quality of services to the public."