Bravery award for Met officers who tackled armed gang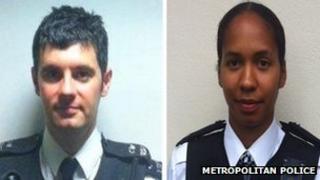 Two Metropolitan Police officers who arrested three members of an armed gang whilst being shot at have won a national bravery award.
PC Alan O'Connor and Det Con Charmain Brenyah, based in Westminster, were on routine patrol when they saw a car being driven suspiciously.
The suspects sped off but were pursued by the officers despite coming under repeated gunfire and were arrested.
Following the arrest in 2009 they were convicted of a series of robberies.
'Adrenalin kicked in'
Det Con Brenyah said: "It was a very dangerous situation, we could have been shot and it's something I will never forget.
"I'm very proud we got them off the streets."
PC O'Connor added: "We didn't really think about it, instincts and adrenalin just kicked in and we kept chasing them despite the gunfire."
Fifty-three officers from across England and Wales who risked their lives in the line of duty were nominated for the Police Federation Bravery Awards.
Met officers PC Shaun Callow, PC Shona McKay and PC Gareth Bradley-Jones were among the nominees.