Ronnie Barker's son Adam Barker jailed for indecent images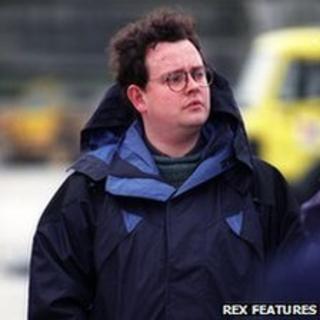 Comedian Ronnie Barker's son has been jailed for 12 months for making indecent images of children.
Adam Barker, 44, of no fixed address, appeared at Isleworth Crown Court last month and admitted 20 counts.
Barker, the youngest son of the television comic, was first arrested in June 2003 as part of a police operation targeting people accessing indecent images of children on the internet.
A computer seized from his home in Ealing contained thousands of images.
Barker then went on the run for eight years, living in Hungary.
During that time he missed the funeral of his mother and his father, who died in 2005 aged 76.
The court heard that of the 1,675 images and videos, 92 were graded level four - the second highest in seriousness.
The court heard 17 of the 20 counts related to pre-teen boys.
Barker obtained the images between January 1999 and June 2003, the court heard.
He paid for them with his credit card, which alerted police who raided his west London home in June 2003.
'Unquantifiable distress'
Ravinder Johal, prosecuting, said Barker confessed to police there were "some things on the computer".
Barker was bailed to June 2004 and escaped to Hungary.
He wrote his parents a letter saying he was going away and his absence caused "unquantifiable distress" to his family, the court heard.
Mr Johal said said Barker only came back to Britain after his funds ran out.
Simon Ray, Barker's barrister, said his client had used his "lonely and isolated self-imposed exile" in Budapest to increase his self-discipline and will power.
He said Barker unequivocally accepted his wrongdoing, adding he had not known of his parents' deaths "until relatively recently".
Judge Rosa Dean told Barker his offending "contributed to the degradation and continuing abuse of children".
Barker was placed on the sex offenders register for 10 years, banned from working with children and subjected to a Sexual Offenders Prevention Order with conditions governing his use of the internet.
As an actor, Adam Barker had small parts in films including Shakespeare in Love and Tomorrow Never Dies.
He has also appeared in TV shows such as Casualty, Monarch of the Glen and Wycliffe.