The Rolling Stones' organisers deny channelling tickets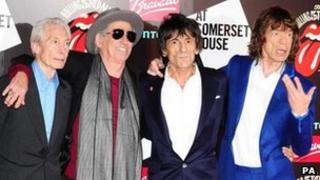 Organisers of The Rolling Stones' anniversary concerts have denied supplying tickets to resale websites before the shows go on sale.
StubHub said they had "strong suspicions" that tickets had been channelled to resale marketplaces for the O2 shows.
They say this was done before seats are available, which has inflated prices.
The band are performing at London's O2 Arena on 25 and 29 November to celebrate their 50th anniversary.
Rival websites Seatwave and Get Me In have denied any deals were in place over the gigs, while Viagogo would not comment.
Ticket denial
A statement from the gigs' organisers, the Dainty Group, said: "The Rolling Stones and its promoter, Paul Dainty, have not provided and will not be providing any tickets to the secondary market."
Brigitte Ricou-Bellan, StubHub's general manager, said: "There are certainly some tickets which are being funnelled through some secondarys. That's driving up the prices.
"That's our impression when we look at some of the offerings on some of the other sites."
Viagogo would not comment specifically on The Rolling Stones gigs but said in a statement: "We work closely with sports teams and event organisers all around the world, and in some cases we receive a direct ticket allocation.
"Importantly, revenue from those tickets goes back to the event organiser."
The site has previously told the BBC it "doesn't discriminate" between who sells tickets on their website.
Pre-sale tickets for the UK dates are already available for the shows.
Face value prices range from £106 to £406 including fees.
Hundreds of tickets for the O2 are already being offered for sale for amounts in excess of the face value.
Tickets go on general sale on Friday, with demand expected to be huge.