London road crash rescue numbers lowest in 25 years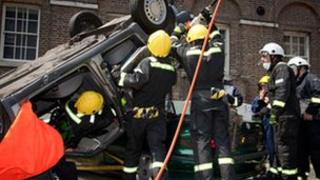 The number of road accidents in the capital where London Fire Brigade (LFB) crews were called to the rescue has fallen to its lowest level in 25 years.
There were 3,504 accidents last year in which 47 people were killed, a marked difference to the peak in 1989 when 5,626 accidents took place, LFB said.
The number also fell since 2001, when 4,976 accidents led to 82 fatalities.
London Fire Commissioner Ron Dobson said despite the fall, the brigade still attends 10 crashes a day.
The figures were revealed as firefighters from around the world met in London for the World Rescue Challenge which saw teams from different countries display their rescue skills.
London Fire Commissioner Ron Dobson said: "It's good news that the number of road traffic accidents our crews are called out to is falling but the London Fire Brigade is still attending almost 10 accidents every day, half of which involve people who've been injured.
"That's why training and events like the World Rescue Challenge are vital for our firefighters to practice their rescue skills in a realistic setting."