Bradley Wiggins Olympic throne to go under hammer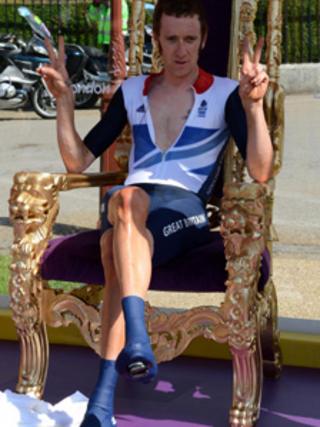 The throne on which cyclist Bradley Wiggins celebrated Olympic gold in the time trial is expected to raise up to £15,000 when it is sold at auction.
Wiggins, 32, gave the crowds a double-handed peace sign as he relaxed in the throne after taking the title, just weeks after winning the Tour de France.
The win at Hampton Court Palace, Surrey, was his fourth Olympic gold.
The London-based prop hire firm selling the throne said it upholstered three such chairs for the Games.
Director of Theme Traders Kim Einhorn said: "We are based in Cricklewood, not far from Kilburn where Bradley Wiggins grew up, and we were thrilled to be asked to provide the three thrones for the events at Hampton Court Palace.
"We had the thrones upholstered for the Olympic Games, and understandably since then, they have attracted much interest."
'King of Kilburn'
Wiggins, who lives in Eccleston, Chorley, picked up what was his fourth Olympic gold at the London Games on 1 August, making him the most decorated Olympian in British history, with a total of seven medals. Fellow cyclist Sir Chris Hoy also ended the Games on seven medals and has more golds than Wiggins.
Auctioneers Graham Budd have put a £10,000 to £15,000 estimate on the throne when it goes up for auction at Sotheby's on 6 November.
Describing the throne as impressive, Mr Budd said: "The iconic image of Bradley Wiggins resplendent on his golden throne at Hampton Court Palace led to a series of royal metaphors in the press such as King of Kilburn and The Sovereign in the Saddle.
"2012 has definitely been Bradley Wiggins' year, not only triumphing at the Olympics, but also winning the Tour de France, just weeks before."