Crossrail to boost house prices 'by up to 25%'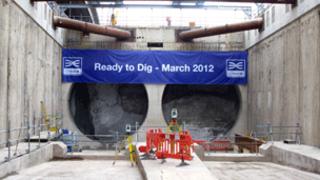 House prices along the £16bn Crossrail route could rise by up to 25% over the next 10 years, a report has shown.
The study found the rail link, from Maidenhead in the west to Shenfield and Abbey Wood in the east, could add £5.5bn to property values by 2021.
The research looked at commercial and residential developments within 1km of new stations on the route.
However, Matthew Fine, who owns an estate agents in Marylebone, said the figure was likely to be nearer 10%.
The study, carried out by property consultancy GVA for Crossrail, found properties in places such as Ealing Broadway, Southall, Hayes and Harlington, Farringdon, Whitechapel, Custom House, Woolwich and Abbey Wood could be boosted by up to 25%.
Meanwhile towns at either end of Crossrail, in Berkshire and Essex, could expect to see property prices increase by 20% above the baseline trend, it showed.
But Mr Fine, of Hunters estate agents, said he thought a 25% increase was a bit optimistic.
"I can't see it, what with the way the current market is running at and the economy... house prices are going to be squeezed over the next five to 10 years."
Foreign investors
The report said 57,000 new homes and 3.25 million sq m of commercial space would be built by developers close to the new stations.
Mike Taylor, author of the report, said they expected Crossrail to boost prices by an average of 20% - a figure derived from "wide-ranging research" research as well as the performance of other rail infrastructure projects both in the UK and abroad.
A spokeswoman for the Thames Valley Chamber of Commerce said the project was already playing a key role in influencing foreign companies looking at investing in the area.
"Foreign companies, and firms outside the area, are currently looking at moving to the Thames Valley and Crossrail is a key factor in this.
"As well as providing benefits for businesses and house prices it will give a general boost to the local economy."
Eight new stations in central London and Docklands and almost 120km of track will link Maidenhead and Heathrow with Shenfield and Abbey Wood.
Up to 24 trains an hour will operate in the central section between Paddington and Whitechapel during peak periods, with each train able to carry 1,500 passengers.
Crossrail services are due to commence in 2018.