Tattoo ban for Metropolitan Police officers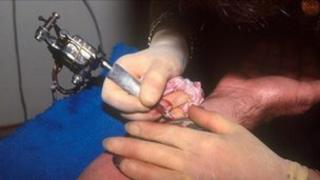 The head of the Metropolitan Police has banned officers and staff from getting visible tattoos because they "damage the professional image" of the force.
Commissioner Bernard Hogan-Howe also said employees must register details of any body art with line managers, or risk being thrown out of the force.
A Met statement said its policy on appearance would promote consistency.
Chairman of the Metropolitan Police Federation John Tully described the policy as a "little heavy handed".
The memo sent to officers and civilian staff on Monday made clear they must not get any more visible tattoos and declare all those they currently have within a month, or face a disciplinary hearing.
The Met's official statement said: "The standard of appearance required from serving police officers and staff has recently been reviewed to promote consistency."
It also said applicants wanting to join the police service were already to declare tattoos.
Mr Tully said it seemed rather a harsh policy and questioned the need to use misconduct procedures over tattoos.
"Clearly anything that is overtly offensive shouldn't be allowed but I think using the sledgehammer, which the commissioner seems to want to use for gross misconduct under our discipline procedures, for anyone who has these or doesn't declare them is a bit heavy handed."
Gross misconduct
The note sent to staff said: "All visible tattoos damage the professional image of the Metropolitan Police Service. This corporate announcement discusses a specific requirement from the MPS Dress Code Policy in relation to the display of tattoos.
"With effect from the date of this announcement, tattoos on the face, or visible above a collar line, or on the hands are not permitted. All other tattoos must be covered.
"The MPS is aware that some officers and staff already have prohibited visible tattoos. These are defined as tattoos that can not be covered by everyday clothing (i.e. on the face, above a collar line and on the hands).
"It will be a requirement, by the Commissioner, that all officers and police staff with existing tattoos defined as 'visible' must register such tattoos as a formal written declaration to their line manager before 12 November 2012.
"Any officer or member of police staff who fails, without reasonable excuse, to declare and register an existing visible tattoo will be liable to disciplinary action. Such a failure is liable to be considered to be gross misconduct."