Londoners' rehousing offer in Thames Tunnel sewer plan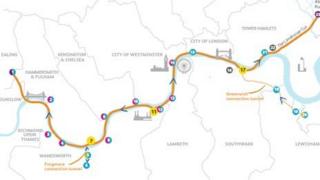 Hundreds of Londoners will be offered the option of being rehoused for three years to make way for work on a £4.1bn "super sewer".
The tunnel would run from west to east London collecting 39 million tonnes of sewage discharged into the River Thames each year.
A Thames Water spokesman said: "We will offer people temporary relocation."
But a Hammersmith & Fulham councillor said the plan would create "human misery" and should be blocked.
'Limited' properties
If approved, the main tunnelling work will begin in 2016, with the project expected to be complete in 2023.
The water firm plans to submit proposals to the planning inspectorate early next year.
It has said the current Victorian system was incapable of coping with modern needs and large quantities of sewage leaks into the river triggered by rainfall.
"In line with government policy on building major infrastructure, we will work to reduce noise from our sites and reduce noise affecting nearby premises by, for example, fitting secondary glazing," Thames Water said.
"Where noise can't be reduced to acceptable levels, we will offer people temporary relocation, which we expect will only apply to a limited number of properties - currently estimated to be in the hundreds - at a small number of sites, where there is 24-hour working."
But the council leader of Hammersmith & Fulham, in west London, Nicholas Botterill said: "Thames Water's stink-pipe now threatens to trigger the biggest evacuation of residents from our borough since the Second World War."
"Now that the full scale of the human misery is starting to emerge, the government must block these ludicrous plans before it is too late."