London firefighters asked to consider redundancy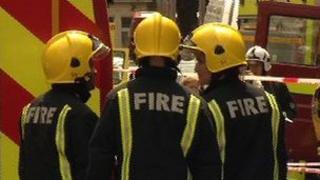 Firefighters have been asked to consider accepting redundancy as part of efforts by the London Fire Brigade to save £65m over the next two years.
Civilian staff at the brigade have also received letters with the additional offer of £10,000 if they leave.
The Fire Brigades Union said that it expected its members to ignore the offer of redundancy on statutory terms.
A London Fire Brigade (LFB) spokesperson said no decisions had yet been made.
'All options considered'
LFB has produced examples of how it might make the savings required by the Mayor of London over the next two years.
One scenario outlines 840 posts, 30 fire stations and 30 fire engines being cut, to save £45 million.
The LFB spokesperson said: "Like virtually every other public service, the brigade is facing the need to make savings.
"We have been given a target for these savings, and we are currently considering our response to this.
"All options are being considered but no decisions have yet been made."