Man 'felt violated' by race charge PC Alex MacFarlane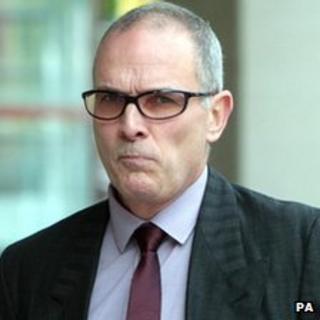 A police officer accused of racially abusing a suspect told him "don't hide behind your black skin", a court heard.
Mauro Demetrio used his mobile phone to record an exchange with PC Alex MacFarlane, 53, after he was arrested in east London in August 2011.
At Southwark Crown Court, Mr Demetrio said he felt "violated".
The officer is accused of using "deeply hurtful" racist language. He denies causing racially aggravated intentional harassment, alarm or distress.
Southwark Crown Court heard the alleged incident took place after Mr Demetrio was arrested on 11 August and taken to Forest Gate police station.
'Hurtful and demeaning'
He was detained after officers discovered he was wanted on suspicion of the supply or manufacture of drugs and for failing to attend court. No action was taken on the drug-driving arrest, the court heard.
Mr Demetrio had become "abusive" to officers following his arrest and claimed he was strangled and pushed against the window of a police van, the jury heard.
He used his mobile phone to record the argument with Mr MacFarlane, from the Met Police, where the suspect was called a "scumbag".
(Warning: Contains very strong language)
The second recording included an alleged racial insult where Mr Demetrio is told: "The problem with you is you will always be a nigger."
The officer is then heard saying: "Be proud of who you are, don't hide behind your black skin." Both recordings were played in court.
In a police interview, which was read in court, the PC admitted getting into a "slanging match" with Mr Demetrio and said the suspect had also called him names.
"I have to confess it became a bit unpleasant," he said in the interview.
He added that previously he told other black youths not to hide behind their skin colour, but that usually had a "positive response".
Giving evidence Mr Demetrio said: "I thought that's it, isn't it? It can't get any worse.
"I really felt violated. I felt really, really low and just violated."
Mr Demetrio said the officers, who were part of a public order unit, appeared "agitated" at the time because it was days after the riots broke out in London.
Duncan Atkinson, prosecuting, said the officer's comments had been "deeply hurtful and demeaning" and had distressed Mr Demetrio.
The trial continues.