Parliament Square plinths displayed at art show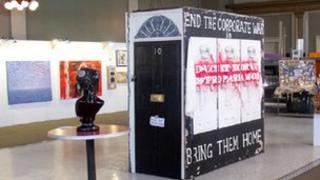 Plinths that displayed political protest messages next to Parliament Square in 2010 are being shown at an art exhibition.
The "peace plinths" were originally displayed on the pavement next to the grassed part of the square protesters were evicted from in July 2010.
One of the plinths which was removed by police ahead of the Olympics now been released for the exhibition.
The plinths are part the Peace Project show at London's Gallery Different.
'Powerful exhibition'
The exhibition is being put on by independent public arts organisation Art Below.
"The Peace Project is a powerful exhibition of original work organized by Art Below in which contemporary artists and campaigners work together to promote a message of peace and help support the Halabja Community Playground Project," said Turner Prize winner Mark Wallinger.
Proceeds from the exhibition will go to Halabja Community Playground Project, which is raising funds to build a children's playground in northern Iraq.
Peace protesters set up "Democracy Village" on Parliament Square in May 2010, but were evicted in July that year by the Greater London Authority following a High Court order.