Speed limit of 20mph proposed in Camden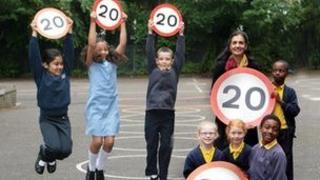 Areas of central and north London could introduce a 20mph speed limit in order to improve road safety.
Camden Council said it would consider introducing the speed limit to all roads under its control in a bid to reduce the number of accidents and encourage more people to walk or cycle
But the Association of British Drivers said: "20mph limits are counter-productive."
A public consultation will be held if the plans are agreed in December.
There are already 20mph zones in specific neighbourhoods in Camden and the council claims they have helped improve road safety.
'Safer streets'
Phil Jones, cabinet member for sustainability, said: "Introducing a 20mph borough-wide speed limit in Camden would prevent road casualties and make our streets safer spaces for all.
"Just a small reduction in speeds prevents accidents and saves lives.
"We want to give greater confidence to the pedestrians and cyclists who use our roads and encourage more people to switch to sustainable forms of transport."
But Keith Peat, regional co-ordinator of the Association of British Drivers, said changing the speed limit was counter productive because "drivers who would have selected a slower speed naturally would now be more concerned about getting points and focussing on the speedometer instead of their windscreens, watching out for pedestrians and children".
Tony Armstrong, chief of Living Streets, which campaigns for pedestrians and public spaces, said: "Camden Council's enlightened proposals are most welcome and have our support.
"Introducing a 20mph limit is probably the single biggest measure to create safer streets."