St Paul's Cathedral pollution damage 'lowest ever'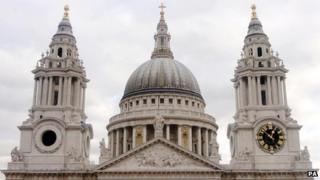 The damage to St Paul's Cathedral by pollution is the lowest it has ever been, a 30-year study has concluded.
The project found that sulphur dioxide levels, responsible for acid rain, on the building's Portland stone facade had fallen by 95% in three decades.
It attributed the drop to a decrease in industry in central London and the increasing use of "cleaner" energy.
The study was carried out by scientists from the universities of Portsmouth, Oxford, Sussex and Cambridge.
Erosion rate
The researchers, who monitored the rate of erosion between 1980 and 2010, said pollution erosion at the cathedral was at a 300-year low.
Previous research by the team suggested that between 1710 and 1980, the yearly erosion rate was at least double the current rate.
The scientists said the rate of erosion at the cathedral was now dominated by natural rainfall, a weak carbonic acid with a pH of about 5.6.
Acid rain is now responsible for just 1% of the damage.
The researchers concluded the building was safe, having survived a growing metropolis, the Industrial Revolution, plumes of sulphuric dioxide gas and smoke from Bankside Power Station - now the Tate Modern - and coal fires.
Construction work on the cathedral started in 1675 and was completed in 1710. The balustrade was added in 1718.
The cathedral said the survey was the longest-ever study of erosion rates on a single building.