Mark Rothko painting defacement: Man charged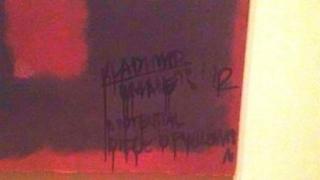 A man has been charged with defacing a Mark Rothko painting at London's Tate Modern gallery on Sunday, Scotland Yard has said.
Wlodzimierz Umaniec, 26, a Polish national of no fixed abode, will appear at Camberwell Green Magistrates' Court on Wednesday.
Mr Umaniec, also known as Vladimir Umanets, is charged with one count of causing criminal damage in excess of £5,000.
The artwork is a 1958 Seagram mural.
Witnesses saw a man daub the Rothko mural on Sunday afternoon before fleeing the gallery.
The Tate Modern was shut for a short period, then reopened at 15:25 BST.
The gallery said it does not have a price for the defaced piece, but paintings by the Russian-born artist often fetch tens of millions of pounds.
A spokeswoman said Tate's conservation team was assessing the damage.
Earlier this year, Rothko's Orange, Red, Yellow sold for £53.8 million - the highest price paid for a piece of post-war art at auction.
The painting went under the hammer at Christie's in New York.