Boris Johnson: Use police and fire stations for schools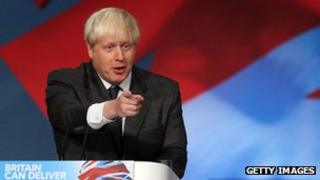 The free school classrooms of tomorrow could be in former police and fire stations or London Underground buildings.
London Mayor Boris Johnson said at the Conservative Party conference that he wants Greater London Authority property to be used by new schools.
Finding sites for free schools is a particular problem in London.
A Labour opponent said handing over police stations on "peppercorn rents" would worsen police finances.
Lack of property
Free schools - a flagship government policy - are state-funded but not under local authority control and have more control over teaching and budgets.
Speaking at the conference in Birmingham, Mr Johnson said he was a passionate supporter of "parents and teachers and charities coming together to create wonderful new places of learning".
He said: "I don't want just a handful of these new schools, I want dozens of them across the capital so we are announcing the setting up of a body called New Schools for London to help find the sites, to help Michael [Gove] and his team find the sites they need.
"We are opening up the GLA's property portfolio - the police, the fire brigade, London Underground - to find those locations."
Natalie Evans, chief operating officer of the charity New Schools Network, which assists groups in setting up free schools, said finding suitable sites was one of the "biggest obstacles".
She said: "London is particularly difficult, often due to a lack of available property and property prices."
She said former school buildings and disused offices were among the locations used.
'Worsen police finances'
But the leader of the London Assembly's Labour group, Len Duvall, Assembly Member for Greenwich and Lewisham, criticised the proposed use of police buildings.
He said: "[Boris Johnson] has already cut 1,700 police officers and 1,800 PCSOs.
"If this new free school policy means he will hand over police stations on peppercorn rents it won't help the policing budget and could make the police's finances even worse then they already are."
London Assembly Liberal Democrat leader, Caroline Pidgeon, said the mayor should "focus on housing where he has funding and powers, not schools where he has neither".
The Green Party criticised the free school policy, saying the schools, which tend to be small, are unable to meet demand and do not always open in the areas of greatest need.
A spokesman for the Mayor's Office said the body, New Schools for London, formed part of a wider plan to support schools in the capital.
In March 2010, London Councils estimated that there would be a shortfall of 65,000 primary school places and 5,000 secondary school places up to 2014/2015.