Abu Hamza wife asked to consider downsizing London home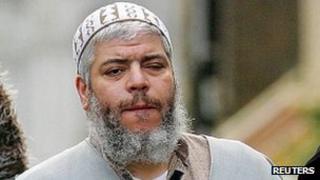 A London council has asked the wife of Islamist cleric Abu Hamza al-Masri to consider downsizing from the five-bedroom council property she lives in.
Hammersmith and Fulham Council believes Najat Mostafa lives in the house in Shepherd's Bush, west London, with two of the couple's eight children.
The council said it could not force her to move as there was no time limit on the tenancy agreement.
The preacher has been extradited to the US where he faces 11 terror charges.
He and four others were flown out of the UK hours after the High Court rejected final appeals against their extradition on Friday.
Last week the council said it wanted to end council houses for life and from April 2013 new council tenants will only get a two-year or five-year fixed-term tenancy.
'Patently unfair'
The council hopes the fixed tenancy terms and an income cap of £40,200 to register for social housing will help cut the current waiting list of 10,300.
But the new measures will not affect existing tenants, like the preacher's wife.
Councillor Andrew Johnson, cabinet member for housing, said: "This case shows exactly why we are bringing about the most radical changes in social housing policy for a generation.
"It is patently unfair that a single person can remain in a large council property for the remainder of their life when thousands of more deserving people languish on the housing register.
"We believe that social housing should only be allocated to people who are making a community contribution and those with a five-year local connection to the borough."
He added that the authority was "unable to act retrospectively".