Bomber Command Memorial: Government pledge over shortfall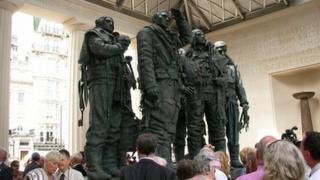 The government has said it will now help pay the bill for the unveiling of the Bomber Command Memorial in London.
Trustees of the charity that built it, many of them war veterans, had feared losing their homes after being faced with a £550,000 shortfall.
The £6m memorial to 55,573 World War II airmen was unveiled in Green Park by the Queen in June.
A government statement said the veterans could "rest easy" as it was committed to sorting it out.
The ceremony was the culmination of a five-year campaign, spearheaded by the late Bee Gees singer Robin Gibb.
The Bomber Command Memorial Appeal secured funding from public donations and private donors John Caudwell, Lord Ashcroft and Richard Desmond.
But the trustees said the shortfall for the ceremony had left them facing financial ruin.
Extra public funding
A statement released by the Department for Culture, Media and Sport said it was "determined to find a solution".
"We feel it is absolutely right that some extra public funding be made available, and we are close to resolving how that can be achieved.
"Veterans, however, can rest easy in the knowledge that the government is committed to sorting this out."
Last week, refusing to help meet the shortfall, the government said it had already contributed £200,000 to the cost of the opening ceremony.
It said it did not normally support opening ceremonies for public memorials, but had made an exception "given the unique circumstances of the Bomber Command Memorial".