Rail fare rise capped by government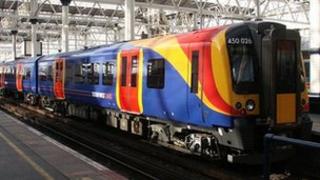 A passenger group has welcomed news that the average rail fares rise will be capped at just over 4% next year.
The government had intended to allow train firms to raise the average price of regulated fares by the Retail Prices Index (RPI) inflation plus 3%.
But Prime Minister David Cameron said that the rise for the next two years will be RPI plus 1%.
This means that in January 2013 commuters will have to pay for average rises of 4.2% rather than 6.2%.
'Very helpful'
The RPI plus 1% formula will also apply for London's buses and the Tube for the next two Januarys.
London Mayor Boris Johnson's spokesman said the government's announcement was "very helpful and represents good news for hard-pressed commuters in difficult economic times".
A spokesman for passenger group Association of Train Operating Companies (ATOC) said: "The government's change in policy is a positive move for passengers."
TSSA rail union leader Manuel Cortes said: "He is still punishing commuters with an inflation-plus increase of 4% which he repeats in both 2014 and 2015."