Koo Stark in court over alleged theft of painting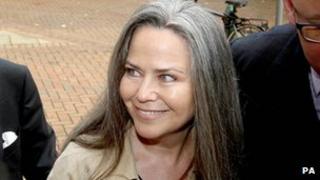 An ex-girlfriend of Prince Andrew has appeared in court accused of stealing a painting worth £40,000.
Koo Stark, 56, who dated the Duke of York in the 1980s, appeared at West London Magistrates' Court under her real name of Kathleen Stark.
The actress, from Knightsbridge, denies the allegations. She was released on unconditional bail to appear at the court on 16 November.
The case is then expected to be committed to crown court.
It is claimed Miss Stark, who is also a photographer and artist, stole the painting from the flat of her former partner Warren Walker, the father of her daughter Tatiana.
The Anthonie van Borssom oil painting depicts a moonlit coastal landscape.