500 skeletons found at Elephant and Castle building site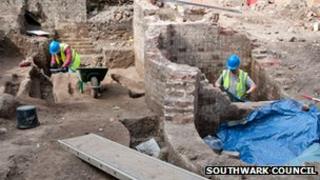 More than 500 skeletons dating back to medieval times have been unearthed at a construction site in south-east London.
A leisure centre is being rebuilt as part of Elephant and Castle's £1.5 billion regeneration scheme.
Archaeologists knew a graveyard dating back to the Middle Ages was originally on the site, but have been surprised by the extent of the findings, Southwark Council said.
About 500 bodies were exhumed in the 1870s for roadworks.
'Insight into lives'
Construction of the new leisure centre will be delayed by about three months, until February, the council added.
Archaeologist Chris Constable said a range of burial types have been found from stacked graves where the poor were buried in stacked coffins, to 25 crypts for use by wealthy families.
He said: "The churchyard is likely to have been here since at least 1086, if not earlier."
The burial ground was in use during the middle of the 1800s when the London suburb was one of the most densely populated.
Dr Constable said the excavation could provide an insight into the impact industrialisation had on people's lives.
'Treated respectfully'
The skeletons being excavated would be cleaned and examined to establish age, sex and time of death, he added.
Peter John, leader of Southwark Council, said: "The remains will be treated respectfully and we will be following the Ministry of Justice's guidance to peacefully re-bury or relocate them.
"The leisure centre work will resume as soon as we've sensitively dealt with this issue."
The council is investigating whether the majority of the remains can be buried in a Southwark cemetery.
The site where the skeletons were found will later become a leisure centre to include a 25m swimming pool.
A residential tower is planned for the adjacent site as part of a 15-year regeneration plan.