Bomber Command veterans face cash shortfall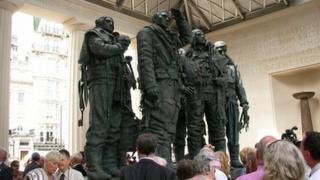 A group of war veterans have said they will be liable for a shortfall of more than £500,000 over the opening of the new Bomber Command Memorial.
The £6m memorial to 55,573 airmen who died during World War II was unveiled by the Queen in Green Park in June.
The Ministry of Defence (MoD) said it had made an exception to contribute more than £1.5m towards it.
But the trustees of the charity that built it said the shortfall has left them facing financial ruin.
The ceremony is the culmination of a five-year campaign, spearheaded by the late Bee Gees singer Robin Gibb.
The Bomber Command Memorial Appeal secured funding from public donations and private donors John Caudwell, Lord Ashcroft and Richard Desmond.
'Unique circumstances'
RAF Bomber Command veteran Gordon Mellor, 92, said he might have to sell his house.
He said: "This has been my concern for a long time, especially as the cost of the whole project went up and up and up.
"We've got to find some way of paying... for the opening."
A government spokesman said it did not usually support opening ceremonies for public memorials, but had made an exception "given the unique circumstances of the Bomber Command Memorial".
The spokesman said: "This included a £200,000 contribution towards the opening ceremony to help cover the additional costs of seating and security, £1 million towards the VAT costs of the construction of the memorial and a contribution of RAF personnel, aircraft and catering that totalled around £375,000."
Speaking of the shortfall, Robin Gibb's wife Dwina Gibb said: "We are intending to have a tribute memorial concert which would hopefully raise enough funds."
She said various artists had expressed an interest in taking part in the concert, which would be held around the same time as a memorial for Mr Gibb.
She said the latter would probably be held at St Paul's in March or April.
She added: "We need to create funds to pay for the upkeep of the memorial but this means things are more urgent."