David Lammy MP says absent fathers 'key cause of knife crime'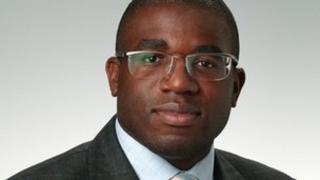 A London MP has suggested that absent fathers are a key cause of knife crime.
Tottenham Labour MP David Lammy said most young people who have stabbed someone to death come from single parent families.
Former gang member Sheldon Thomas, now a government advisor on youth violence, said he agreed with Mr Lammy "100%".
He said his and others' warnings had fallen on deaf ears for at least 20 years.
Mr Lammy, whose own father walked out, said after regularly visiting Feltham Young Offenders Institute he found that most, if not all, offenders did not have access to their fathers.
He also suggested that most of the people involved in last year's London riots were from single parent homes.
'Real problem'
Responding to his comments, Mr Thomas said: "Successive governments refused to look at the important role that fathers play in any community.
"What people will be asking is how come it takes an MP to bring to light something that has been fundamentally affecting deprived communities for at least 20 years?"
He said many factors had contributed to the phenomenon, including teenage pregnancy being "at an all-time high".
"The moral factors and the values of this country have completely changed significantly," he added.
Mr Thomas said fathers should not use the excuse of not getting along with their child's mother as a reason not to look after their child.
Ken Sanderson, chief executive of Families Need Fathers, said he thought the the lack of father figures was not the only cause of crime, but was a contributing factor.
"The absence of a good influential parent or someone who can teach you the difference between right and wrong and develop you and nurture you is a real problem for a lot of families," he said.