London library users gain access to two extra boroughs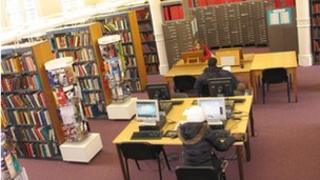 Residents in the boroughs of Westminster, Kensington and Chelsea and Hammersmith and Fulham are now able to borrow library books from the three areas using one membership card.
The councils say the move has unlocked over one million books to people who would ordinarily have to live, work or study in the boroughs to be entitled to use the service.
They say merging library management has saved £1.2m over two years.
It has led to 31 redundancies.
The three boroughs have 21 libraries.
Members can use their existing library cards but will need to register the first time they borrow a book from a different borough's library.
The move forms part of the authorities' "tri-borough" project, combining management of children's services, adult social care and pensions and treasury departments.
The strategy for merging library services has led to redundancies across the three boroughs, mostly at senior and middle management level, said a Westminster Council spokeswoman.
The council's leader Councillor Philippa Roe, said the launch of a "one library card" scheme was a "victory for literacy in London" and would "revolutionise" the role libraries can play.