Metropolitan Police Commissioner: 'Burglary at 27-year low'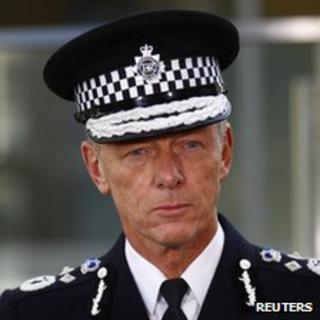 People are safer in their homes than they have been in a generation, the Metropolitan Police Commissioner has said.
Bernard Hogan-Howe, Britain's most senior police officer, said burglary was at a 27-year low across the country.
He made the comments after a top judge defended householders' rights to protect themselves from intruders.
Victim Support said burglary remained "a very real threat".
Mr Hogan-Howe said: "Although people sometimes despair about crime, burglary is about a 27-year low right around the country. Burglary is going down.
"People often don't think they're safe in their house, they're actually more safe than they have ever been in a generation."
Police recorded 501,053 burglaries in 2011/12, including 245,317 in a dwelling.
It was less than half the 1,015,075 recorded in 1997, 519,265 of which were in a dwelling.
'Unsafe and anxious'
Javed Khan, chief executive of Victim Support, said it was good news that burglary levels were at their lowest for 27 years.
"But from the thousands of victims we helped in the past year, we know that burglary remains a very real threat," he added.
"Having your home broken into is traumatic and can leave people feeling unsafe and anxious."
Last week, the Lord Chief Justice Lord Judge said householders had the right to get rid of burglars in their homes.
He spoke out after Judge Michael Pert QC said that being shot by homeowners was simply a chance burglars took.
Joshua O'Gorman, 27, and Daniel Mansell, 33, were fired at with a shotgun by Andy Ferrie during a raid at his cottage in Welby, Leicestershire, on 2 September.
Mr Ferrie and his wife were arrested over the shooting, but later released without charge.
O'Gorman and Mansell, from Leicester, admitted burglary and were jailed for four years by Judge Pert at Leicester Crown Court last week.
"If your home is burgled and you're in there, you have the right to get rid of the burglar," Lord Judge said.
"When you're at home you want to feel safe, and in my view you're entitled to feel safe and secure."