London Fire Brigade warns of 'beds in sheds' fire hazards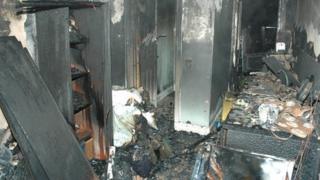 More than one person has died or been seriously injured every month in the past three years in fires in buildings where people should not have been living.
Figures show there were 235 fires in occupied buildings including "beds in sheds", squats and derelict structures since 2009.
Four people died and 45 were seriously injured, the London Fire Brigade said.
The brigade is now calling on Londoners to help identify the buildings and report rogue landlords.
So-called "sheds with beds" are illegal structures provided by unscrupulous landlords.
The brigade said there had been 16 fires, three deaths and seven serious injuries in them since 2009.
'Fire traps'
The spokesman said fatal fires had broken out in a converted garage in Southall, Ealing, in January 2010; a converted garage in Hanwell, west London in January 2011; and in a converted garage in Redbridge, north-east London in March 2011.
Causes of such fires include unattended cooking, discarded cigarettes, faulty wiring, heaters, and gas stoves, he said.
In August the government launched new guidance to councils in a bid to shut down beds in sheds.
It said it would make clear the wide range of powers at councils' disposal.
Hounslow Council said there had been a "marked increase" in the number of sheds and outbuildings being rented as accommodation.
It said it was using a £280,000 government grant to bring in extra staff to tackle the problem.
A Newham Council spokesman said the authority was bidding to be the first borough in the country to license all private landlords.
Crada Onuegbu, chair of London Fire and Emergency Planning Authority's Strategy Committee, said the issue continued to be a concern.
"These figures are a stark reminder that properties like these are potentially lethal fire traps," she said.
"It's inevitable that people living in them rely on far riskier ways of heating, cooking and lighting but unfortunately fire safety is not a priority for the landlords who illegally rent them out.
"It's not only people living in this accommodation whose lives are being put in danger.
"There's also an increased risk to our firefighters if they need to carry out life-saving rescues in buildings that are in a state of dereliction and that were never intended to be used as sleeping accommodation."