Hammersmith and Fulham to fix social housing tenancy term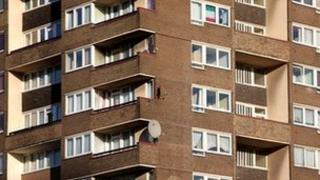 A London council plans to bring in fixed term tenancies for people who apply for social housing from 2013.
Hammersmith and Fulham Council will limit tenancies to five years, cutting it to two years for 18 to 25-year-olds.
A household income cap of £40,200 will also be introduced to stop some people from registering for social housing and cut the current waiting list of 10,300.
But housing charity Shelter said the income cap will see several families "locked out of a decent place to live".
The proposals, which will come into effect in April, will be considered at a council meeting on 15 October. The plans come after the Localism Act 2011 gave councils the power to use flexible fixed term tenancies.
In July, fellow Conservative council Barnet introduced similar fixed term tenancies and brought in a household income cap of £36,200 for families with children, reducing it to £30,800 for those without children.
The changes will not affect existing tenants. New tenants will not automatically lose their homes but their circumstances will be reviewed before their term expires.
Outdated notion
But vulnerable residents will still get secure tenancies and people working in the area and those in the armed forces will get priority.
Households with income exceeding £40,200 will be able to join the register for the council's low cost home ownership programme.
The council said the cap will help trim the tenancy waiting list which currently equates to a 36-year-wait and 94% of people are on the lowest priority band.
Cabinet member for housing Councillor Andrew Johnson said: "We believe that the notion of a tenancy for life is outdated and that it's wrong to expect to inherit a welfare benefit in the form of a subsidised house irrespective of housing need."
Kay Boycott, director of communications, policy and campaigns at Shelter, said: "Shelter research earlier this year found that renting a two bedroom home in Hammersmith and Fulham is unaffordable for families earning less than £74,100.
'Transient neighbourhoods'
"An income cap for social housing around the £40,000 mark could therefore see a huge swathe of the population locked out of a decent place to live, too well off to access social housing but not affluent enough to find an affordable place to rent privately."
She urged the council to build more "genuinely affordable homes" in the area.
In contrast to Hammersmith and Fulham Council, Liberal Democrat-led Sutton Council issued its Tenancy Strategy on Monday, "restating its belief in offering open-ended tenancies".
Council leader Ruth Dombey said: "It is very dangerous to create transient neighbourhoods where few people have any real stake in the community."
She added: "I'm not embarrassed to say that we looked to the past for inspiration.
"In a time when 'I'll tell your mum' was a serious threat, kids were less likely to drop litter or vandalise their neighbourhood."