Camden plans council tax hike on empty second homes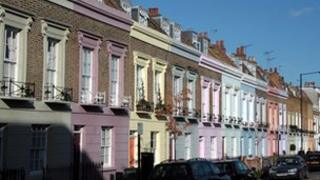 A north London council has revealed it plans to charge people 150% council tax for leaving their second homes empty for more than two years.
Labour-run Camden Council said the move would tackle the one in 16 homes left vacant by owners.
Second home owners would also lose a 10% council tax discount on habitable homes left empty for six months.
But some in the property sector argue that London should not be preventing inward investment during a recession.
Camden Council is making its plans with a view to using the Local Government Finance Bill, which will give councils discretion to increase council tax on long-term empty dwellings.
'Necessary and fair'
The Bill will be read in the House of Lords on 10 October.
Theo Blackwell, Camden Council's cabinet member for finance, told the BBC: "We think this is a necessary and fair measure.
"In Camden at the moment there are over a thousand homes that are just lying empty for investment's sake, part of someone's property portfolio.
"I think this sends a signal to people that maybe they should be thinking of using their assets in a more productive way."
A report by estate agent Savills in July found 59% of buyers in prime central London areas such as Kensington, Chelsea, Marylebone and Mayfair were from overseas.
For 37% of these their London property is not their primary residence, the report found.
'Revenue generator'
A spokesman for Conservative-run Kensington and Chelsea Council said its cabinet was likely to consider in January whether or not to change the 10% discount currently available on second homes left empty for six months.
In July the Smith Institute, a left-wing policy think-tank, reported that in the first half of 2011, 60% of newly built property in central London was bought by overseas investors.
Paul Hackett, director of the institute, welcomed Camden's proposal and said he thought other councils would follow its lead.
But Naomi Heaton, CEO of London Central Portfolio, which specialises in acquiring properties for investors in central London, said the policy would not lead to an increase in property occupation.
She said: "It's a good revenue generator but won't cause people to get their properties occupied."
She added that the council tax increase equated to an extra £1,300 a year.
"If you can afford to have a home left empty for two years, the likelihood is that £1,300 will make very little difference."
She added that foreign investment into London pays for a large number of jobs, from lawyers to cleaners, and should not be discouraged when the economy needs it the most.